In my previous post, I put forth a theory that the NFL was out to get Odell Beckham Jr. In the very next game, this happened:
Odell Beckham a jersey-grab away from beating William Jackson for a second time down the left sideline. pic.twitter.com/Jt5clAYFeq

— Ben Baby (@Ben_Baby) September 18, 2020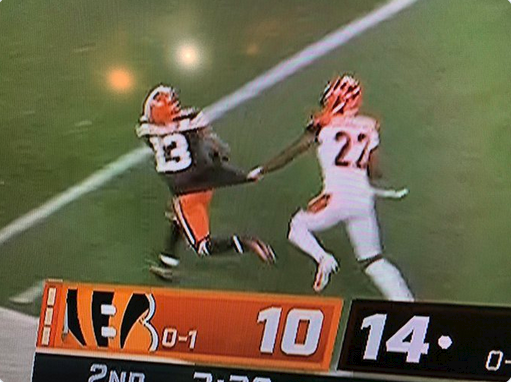 So, we had a DB blatantly pulling on OBJ's jersey, and a ref looking right at it, and he didn't throw a flag.
I couldn't ask for better evidence.
But, you might ask: OBJ scored a touchdown earlier in the game, right? Yes, he did, and he will score more. However, his job is much harder now. Not only does he need to achieve separation, but he has to achieve extra-special separation in order to stay out of grabbing range. OBJ's touchdowns were cut in half during that game, and Baker Mayfield's stats took a hit too.
Do all the DBs in the NFL know that they can grab OBJ at will? Maybe not. When word spreads, OBJ's job will get even harder.
OBJ complained vociferously to the ref, to no avail. Note to Odell: there will be more frustration in your future unless you make peace with the league.
Note: Congratulations to Browns' rookie HC Kevin Stefanski on his first victory as a head coach. True, it was against the worst team in the league, but Joe Burrow and the Bengals kept coming, and a lesser coach could have lost that game.
Note: the above incident took place during the Browns vs. Bengals Thursday Night Football game on September 17, 2002.