Alex Jones often cites John Carpenter's 1988 film They Live as an exposé of how we are brainwashed. However, that is only the beginning of the story. It turns out that the aliens are running the Earth as a business, and the film is actually a left-wing attack on capitalism. They Live was released on November 4, 1988 – just four days before the presidential election, with the intent, no doubt, of swaying voters to the Democratic ticket.
At the 1:20:38 mark we see business-suit clad alien managers being transported home to Andromeda after a hard day's work of exploiting Earth (click to enlarge):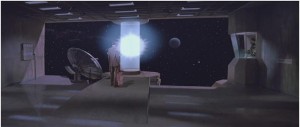 Jones, of course, is a little capitalist, or Petite Bourgeois, and can't even figure out when the Left is attacking his ideology.
Jones said that the 2014 film Captain America – Winter Soldier "exposed" the Nazis in the government during the August 19, 2014 episode of his podcast (2:46:05). But the movie had a "happy" ending that Jones completely missed. The non-Hydra SHIELD agents went to work for the "good guys." Here we see Agent 13 at her new job with the CIA (2:02:06):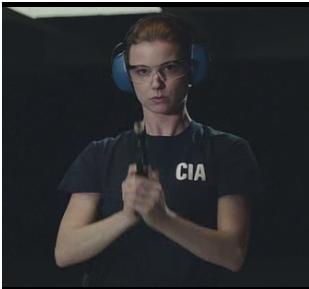 So, the bad guys were found in a fictional intelligence agency (SHIELD), and the CIA is portrayed as pristine – the exact opposite of what Jones thought it was. Also, Jones completely missed the art-film style gay romance between Captain America and the Winter Soldier. I'm sure that Jones would have had something derogatory to say about it if he had the wit to notice it. Hint: Cap refused to make out with Romanov – duh! (Start at 56:30 and watch for a few minutes.)
Jones can't say "Molotov Cocktail" instead he says "Molov". He can say "library" sometimes, but when he tries to use the plural he says "lie-berry." For example, when he says something like: "I've been to many lie-berries." (See the next post for an example.)
But if you don't think a dummy like Alex Jones could start a civil war, think again. The Civil War was started by people exactly like Jones. According to historian Paul Johnson (A History of the American People, page 458):
"The quality of Southern leadership, intellectually at least, was poor. The reason for secession, put into the declarations of each state, made no sense, and merely reflected the region's paranoia. Mississippi's said: 'the people of the Northern states have assumed a revolutionary position towards the Southern states.' They had 'insulted and outraged our citizens when traveling amongst them…by taking their servants and liberating the same.' They had 'encouraged a hostile invasion of a Southern state to incite insurrection, murder and rapine.' South Carolina's was equally odd, ending in a denunciation of Lincoln, 'whose opinions and purposes are hostile to slavery.'"
When Alex Jones writes his Declaration of Secession for Texas, it won't be any brighter.