Comedian Russell Brand wants us to believe that he is some kind of revolutionary. But look at what he said during his Messiah Complex comedy special (at 1:21:00):
"…free movement of global capital will necessitate free movement of a global labor force to meet the demands created by the free movement of that capital."
He wasn't making a joke there, but rather was ridiculing the Republicans on Fox News. But what's important is that he was singing from David Rockefeller's hymnbook. Compare what Brand said to what Rockefeller wrote in his Memoirs:
"The free flow of investment capital, goods, and people across borders will remain the fundamental factor in world economic growth…"
Brand was regurgitating Rockefeller's neoliberal credo; that corporations should be free to rearrange the peoples and nations of the world to their liking. Would Che have approved of that? Hell no; he would have executed Brand on the spot. But if you go and look at Brand's YouTube site, you will see him portraying himself in the iconic Che Guevara pose.
During the 2014 Congressional elections, Brand told his young audience not to vote, and everybody knows that low turnout helps the Republicans. So, I'm calling bullshit on Brand. But wait! There's more!
Also in Messiah Complex Brand carries on about "The Divine Female Sexual Energy" (at the 1:29:00 mark). This is very reminiscent of Dan Brown's "Divine Feminine" in The Da Vinci Code, his best-selling novel of Catholic-bashing Masonic propaganda. The Illuminati likes to criticize its arch enemy, the Catholic Church, as being patriarchal to score points with women. Ironically, the Masons are just as patriarchal, not allowing female members, and segregating them into their own ghetto organization called the Eastern Star.
Here is an inane scene from The Da Vinci Code movie where the hero, Robert Langdon (played by Tom Hanks) reads his own book, Symbols of the Sacred Feminine (2:42:37):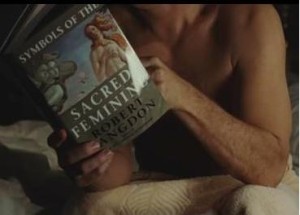 Whether or not women are divine is not the issue. The point is that this meme, as far as I can tell, only exists in two places: a Masonic propaganda film, and Russel Brand's comedy show. Curious, no? And this ties back to David Rockefeller because he has the Masonic symbol, the compass, carved into the facade of Rockefeller Center: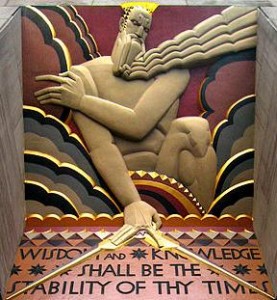 The next photo shows the evil mastermind of the 1927 film Metropolis holding a compass. That film later became a favorite of German Nazis in the 1930s: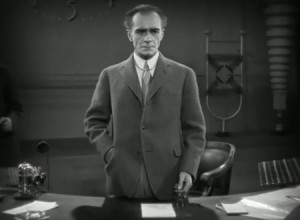 And finally, the most notorious police state in history, East Germany, put the compass right on their flag: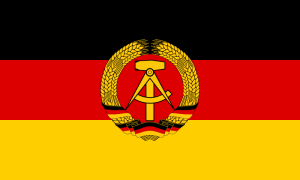 According to Wikipedia: "The hammer represented the workers in the factories. The compass represented the intelligentsia, and the ring of rye the farmers."
Russel Brand is certainly an intelligent guy. And by repeating elitist memes, he has outed himself as a member of the ruling oligarchy. So, is Brand just cashing in on the pseudo-revolutionary market as a left-wing version of Alex Jones? Or does he forward your email address over to the CIA when you subscribe to his YouTube channel?
I don't know the answers to those questions, but in my opinion, Russel Brand ain't no revolutionary.
Note: Putting an intelligentsia in charge, regardless of its political flavor, is the dumbest thing a nation can do. Eastern Germany is still a basket case, and our own banker intelligentsia almost destroyed this country in 2008. The multinational corporations that write our laws today are no different. If they were, we wouldn't have 46 million people on food stamps. Being smart is not an asset when you are evil.