As you probably know, the world ended on Friday morning when we learned that only 126,000 jobs were created in March, and the Dow futures dropped 165 points. However, I'm going to go out on a limb and predict that that number will be revised higher eventually. Why would I do that? Because America's payrolls were fatter in March than any other month in history. The Treasury Department withheld a gargantuan $218 billion dollars from the paychecks of American workers. That cannot happen unless there are a whole lot of workers. Here's the Daily Treasury Statement (click to enlarge):

March topped the previous record set in December 2014, and was a solid 6.8% higher than the former record month of March 2014. Here's a chart from the good folks at DailyJobsUpdate.com (that would be me) showing the record-breaking months: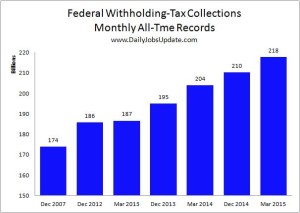 Note: the y axis begins at 150 billion so the the relative size of the bars are exaggerated.
Notice that the record set in December 2007 (left-most bar) lasted for five years. Since then, new records have been set every December and March. Payrolls are very seasonal; the retail industry staffs-up in December, and in March there are 31 days, no holidays, nobody goes on vacation, teachers are at work, and many banks pay out their bonuses.
So, March is always strong, but this March crushed last March, so things are obviously still popping. Perhaps the economy is like Wile E. Coyote in that moment when he goes over the cliff but has yet to whoosh down. And maybe you are thinking that a moving average of the withholding-tax data would shed some light, and you would be right. So why not go over to DailyJobsUpdate.com and have a look-see?
Don't expect Zero Edge to report this; that would be against their "Death to America" mandate from the Kremlin.

Besides, Rick Santelli is busy snorting coke off of "Tyler Durden's" ass as they celebrate Friday's futures plunge.
Note to bloggers: you may use the chart above as long as you include a link to this page.